Durban High School


Class Of 1963


Not a member?
JOIN HERE
Find and click on your name.

WHERE ARE THEY NOW

WHERE WE LIVE
Who lives where - click links below to find out.

1 lives in Arizona (USA)
3 live in California (USA)
1 lives in Colorado (USA)
1 lives in Connecticut (USA)
2 live in Massachusetts (USA)
1 lives in Oregon (USA)
1 lives in Pennsylvania (USA)
1 lives in Ontario (Canada)
7 live in Eastern Cape
1 lives in Free State
18 live in Gauteng
108 live in KwaZulu-Natal
7 live in Western Cape
10 live in USA
1 lives in Canada
13 live in Australia
1 lives in Germany
1 lives in Ireland
2 live in Israel
2 live in New Zealand
1 lives in Sweden
16 live in United Kingdom
4 location unknown




Show Classmates on map
MISSING CLASSMATES
Know the email address of a missing Classmate? Click here to contact them!
Welcome To The Durban High School
Class of 1963 Website
This website was established to locate as many members of our DHS Class of 1963 as possible, and to encourage them to attend the 50th class reunion in Durban on June 7, 8 and 9, 2013.
Now that the reunion has been held, the objective of this website is to maintain the connections that the reunion renewed, and to encourage those who are not already participating in the communication engendered by this website to do so. It is also intended as the vehicle by which the Class of 1963 will create a bursary fund to sponsor the attendance of a deserving pupil at DHS (see below).
Please refer to the report on our successful reunion on the 50 Year Reunion page of this website.
* * *
October 2017 Visit to DHS
Late last year I visited DHS to meet Louis Arde', the new CEO of the DHS Foundation. I was met at the school by our classmate Howard Buttery, who introduced me to Louis. While at the school I also caught up with another classmate – Jerry Oddy, who is now the School historian.
Jerry gave me a tour of the school, and I was very much impressed indeed with what I saw. What first impressed me was the courtesy of the boys. Almost every boy with whom I made eye contact as we walked the corridors politely said "good morning." And all of them were neatly dressed in their full school uniforms. Also impressive were the facilities – especially the media centre (the modern equivalent of what we knew as a library), the Seabrooke Theatre (where I dropped in on an impromptu series of skits), and the Victor Daitz Mathematics and Science Center.
Those of you who attended the Founder's Day dinner in the year of our class 50th anniversary will remember the impassioned plea of after dinner speaker Stephen Saad for Old Boys to financially support the school by contributing to the DHS Foundation – even by small monthly contributions. Steve bemoaned the decline in the school's academic and sporting performance, and reputation, to the extent that Old Boys were sending their sons to schools other than DHS.
The mission of the Trust, in the words of its website is:
to provide additional financial support for capital development of the school in order to ensure that fees do not become prohibitively expensive and, secondly, to provide scholarships, be they full or part, for students who are unable to meet the financial demands of an education at DHS but who have exceptional merit in academics, sport or cultural pursuits and would be an asset to the school.
I have not lived in Durban for many years, so I was out of touch with the extent of competitive bidding between high schools for the best students – especially, apparently, those who play rugby! The bait is typically bursaries and other financial sponsorship incentives – an arena in which DHS was not competing five years ago.
In the five years since Steve's speech, DHS has made remarkable strides. The school facilities have been improved by the refurbishment of Blackmores, the creation of the media centre and theatre and science and mathematics facilities referred to above, and the general refurbishment of the physical assets of the school. The school's academic offerings and results have also continued to improve to reach the highest level. And, last but not least, the performance of the school's teams has greatly improved too – last year the 1st XV beat Glenwood for the first time in years! (However, there is still much room for improvement, as today I saw the results of the weekend cricket matches against Westville!)
Louis and Howard brought me up to date on the activities of the Foundation, and especially its aggressive efforts to provide funding for scholarships that can be offered to attract the best boys to attend the school. As of the time of my visit there were 53 fully funded bursaries available, and the target is to have at least 150 within three years – of which the Foundation has agreed to provide 30. Our Class of 1963 Bursary Fund is making its own small contribution to the Foundation's efforts, by partially sponsoring a scholarship for boarder Matthew Delderfield (while hoping to eventually create a sufficient principal amount in the bursary fund to provide a full bursary).
The bottom line – based on my morning at the school – is that DHS is well on its way back, and is fulfilling a key role in producing young men who will make a positive contribution to their communities and society. Have a look at the recent video released by the school as part of its marketing efforts, at https://www.youtube.com/watch?v=tUEDdQHTCRQ&feature=youtu.be (note the return of the basher!).
If you have not yet contributed to the Class of 1963 Bursary Fund – of if you have already done and want to top up your contribution – please consider supporting your old school and its mission by making a contribution now. Bank transfer details can be found on the Class of 1963 Bursary Fund page of the website www.durbanhighschoolclassof1963.com. Otherwise, please email me at lgclarx@aol.com and I'll provide whatever information you need to make your contribution.
Stuart "Mossie" Clark
February 20, 2018
* * *
Report on DHS 150th Anniversary Events
Perhaps the best way to report on the 150th Anniversary events is to reprint the June 10, 2016 DHS Herald, which appears below: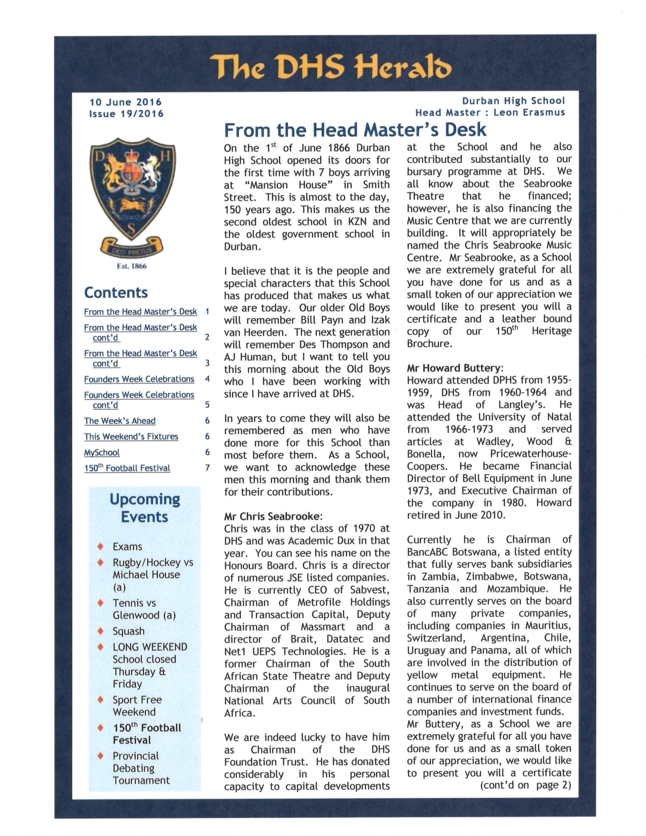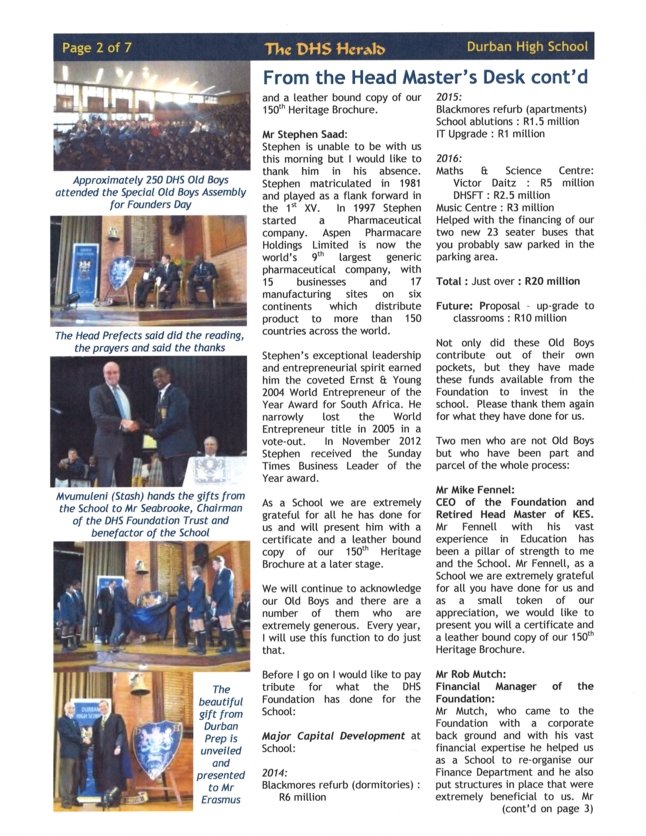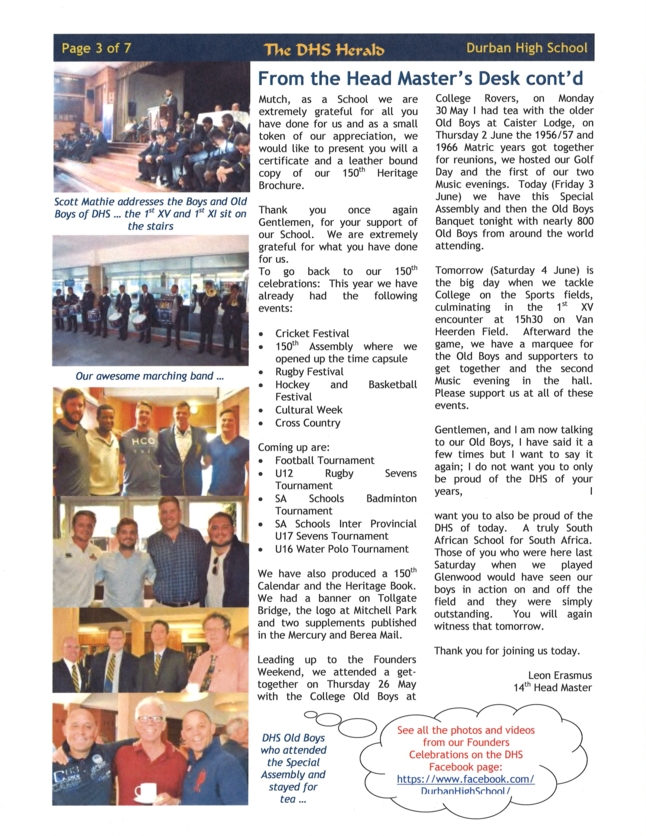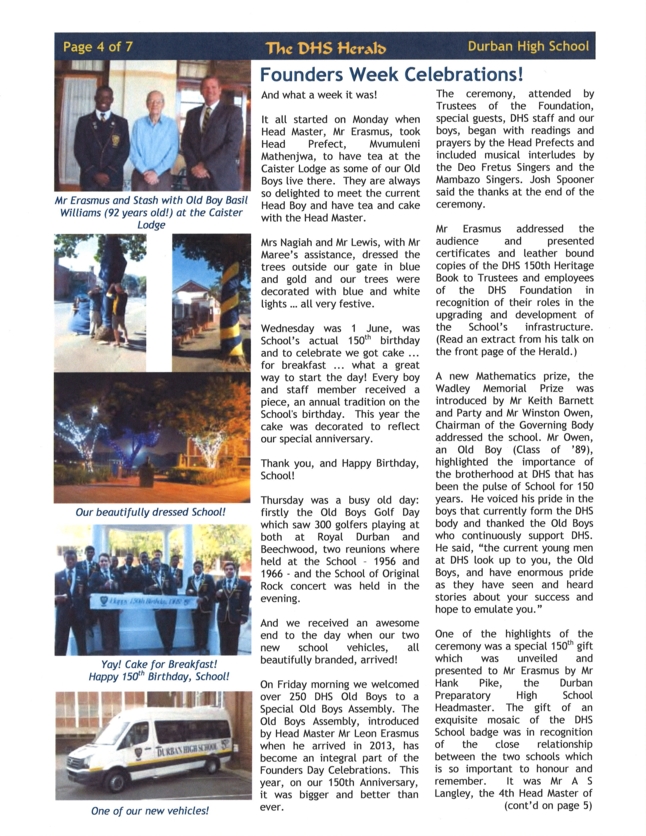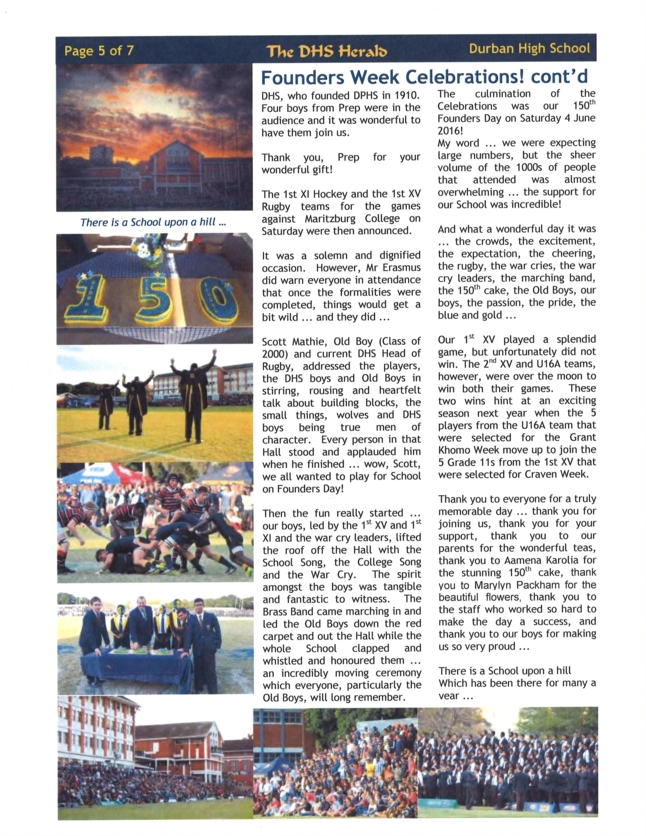 If you do not recive the DHS Herald, but would like to, please send an email to editor@durbanhighschool.co.za, and ask to be added to the emailing list.
Best regards,
Stuart "Mossie" Clark
Posted June 15, 2016
* * *
Class of 1963 Bursary Fund Established
On August 13, 2013 the DHS Class of 1963 Committee announced the establishment of a Class of 1963 Bursary Fund, to sponsor the attendance of a deserving pupil at DHS. The objective is to raise a capital amount of R585,000 to fund this bursary, which it is hoped will be awarded for the first time for attendance at the School in 2017.
The R585,000 represents a R150 contribution per month for the 39 months between October, 2013 and December 2016, by an estimated 100 class members (or the lump sum equivalent). However contributions of any amount will be welcomed - class members are encouraged to contribute according to their ability and inclinations.
For further information about the bursary fund, and how to contribute, please click on the "Class of 1963 Bursary Fund" page of this website.
Thanks in anticipation for your interest and support!
* * *
Even though the reunion has come and gone, please complete your profile in the Classmate Profiles section of the website if you have not already done so.
If you have not already done so, please complete your profile on the website - preferably including a summary of what you have been up to in the past 50 years, and by adding a current photograph.
Also please advise me if you know of the whereabouts of anyone on the classmates list who has not signed up - or give them the website address and suggest that they should sign up. We need to track down as many class members as possible!
With kind regards to all my classmates of so many years ago,
Stuart "Mossie" Clark
Websites For Other Class Years
There are other class websites for the following DHS class years – if you are a member of any of those classes, contact the website administrator to activate your profile:
1960 – http://www.dhs-class-of-1960.net/ - macornelissen@shaw.ca (Michael Cornelissen)
1961 - http://www.dhs-class-of-1961.net/ - drianrobertson@gmail.com (Ian Robertson)
1963 - http://www.durbanhighschoolclassof1963.com/ - lgclarx@aol.com (Stuart Clark)
1964 - http://www.dhsclassof1964.com/ - gabbybell@gmail.com (Graham Bell)
1965 - http://www.dhsclassof65.net/ - terry.sandy @chep.com (Terry Sandy)
1966 - http://www.dhs-class-of-1966.com/ - cedric @cornerstonec.co.za (Cedric Parker)
1988 – website in the course of construction - contact Andrew Stringer at ganginoz @gmail.com
Other Websites Of Interest
Durban High School - www.durbanhighschool.co.za/
DHS Foundation - http://www.dhsfoundation.co.za/