Durban High School


Class Of 1963
In Memory
David Anderson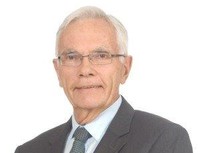 I am saddened to report the passing of David Anderson. David was a quiet and unassuming guy - yet smart and able. Like so many others in the Class of 1963, his abilities were only fully revealed after he left DHS, as the obituaries set out below bear witness. Sadly David did not attend the Class of 1963 50th anniversary celebrations, so the last time I saw him was in 1963. I was intrigued, however, to note from the photograph accompanying the van der Merwe obituary (which photo is published alongside) that up to the end David still had that characteristic crooked smile!
Contributed by Stuart "Mossie" Clark
DR. DAVID RANDLE ANDERSON - OBITUARY
Dr. David Randle Anderson died suddenly after surgery in hospital in Sandton on 22 September 2014. Born in Durban on October 18, 1946, he attended both DPHS and DHS, matriculating from DHS in 1963.
David attended the University of Witwatersrand, and was teamed up with another student, an oral hygienist, Turid, (because they were both left handed!!) who was the love of his life and who he married in 1974. More than 40 years ago David took Turid on honeymoon to Botswana in his brand new "SWB" Land Rover, a vehicle he still owned at the time of his death.
Turid and David had 4 children, Kirsty, Lloyd, Bronwyn and Sarah, as well as 6 grandchildren.
Initially, David lectured in Dentistry at Wits, and ran a part-time practice. Later he gave up lecturing and became a full-time periodontist, and was highly regarded by his peers and patients alike.
Besides Turid, their children and his profession, David's other passion was looking after the affairs of the Professional Provident Society ("PPS"), a group with investments, medical aid and insurance risk exceeding R100bn, where he served as a board member for more than 20 years and also at times as Group Chairman and as Chairman of its largest entity, the Professional Provident Society Life Insurance Company Limited, to all of which his contribution was immense.
A past Chairman, Dr David Presbury, and also the current CEO of PPS Group, Mike Jackson, both spoke at David's Memorial Service about David's enormous contribution to PPS, and how he was always concerned about the interests of its Members and Staff. They spoke about his ability to cut through the debris of facts to get to the essence of PPS' being, an organisation created for the benefit of its members. It was never about himself and always about the members and staff at all levels that David was concerned.
But above all, David was a devoted husband to Turid and father to his children Lloyd aptly and tearfully described the happy childhood they as a family enjoyed with holidays at Sheffield Beach and in the bush (and more recently at their farm in Dullstroom), when he spoke for the family at the memorial service.
Turid had created a setting for the memorial service that David would have wanted in an open marquee, with chairs turned around and facing out over the beautiful grounds of the Country Club Johannesburg where about 400 of us celebrated the life of a successful professional man of the utmost honour and integrity, a man of whom DHS can be very proud.
Contributed by DHS Class of 1963 schoolmates Dr. Sheldon Jones and Don Allaway
PPS CHAIRMAN DAVID ANDERSON PASSES AWAY
By Christy van der Merwe, September 23, 2014
Professional Provident Society Insurance Company (PPS) on Tuesday announced with sadness that chairman David Anderson passed away.
"Dr Anderson did not only show great leadership as chairman, he also made an invaluable contribution to the development of the PPS group through his appointments to the various PPS board sub-committees, where his concern for the welfare of PPS' members and PPS' employees was always apparent," said PPS CEO Mike Jackson, emphasising that Anderson was devoted to PPS and ever-conscious of his role as representative of PPS' members, and constantly championing their interests.
Jackson says that Anderson's deep knowledge of the organisation and clear guidance as chairman is a tremendous loss to PPS and its members and will be sorely missed. "Our thoughts and prayers go out to his family and friends during this difficult time."
He was elected to the board of Professional Provident Society in 1991, after which he was elected as deputy chairman of the board in 1996 and as chairman in 1998. On incorporation of the society in 2001, Anderson was appointed as chairman of PPS, a position he held with distinction up to his untimely passing.
He also served as deputy chairman and a director of Professional Provident Society Limited, the former holding company of the PPS group. On the restructuring of the former holding company into a trust in 2011, Anderson was elected as a trustee of the Professional Provident Society Holdings Trust.
Anderson was a specialist in oral medicine and periodontics who served in several capacities on the South African Dental Association and its sub-structures from 1992 to 2008, including membership of the Federal Council of the Dental Association.