Durban High School


Class Of 1963
In Memory
Christopher D'Aubrey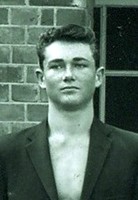 Christopher D'Aubrey died on June 1, 1983 in a tragic shooting accident. The circumstances were described as follows in a November 5, 2012 email to me from Don Allaway:
Chris D'Aubrey died tragically. I read his post mortem report. He, his wife Rina, and their very young son Alex were going on a camping trip and spent the night en route to the Drakensberg in PMB where Rina's parents lived. The next morning before they were to depart from PMB Chris bent down to check the exhaust of his car which he thought was loose and an antique pistol which he had tucked into his belt fell out struck the ground and fired. The bullet passed through his lower abdomen under his rib cage and through his chest and exited in the region of his heart. His young son Alex (about 3 year of age) witnessed the entire event.
Pictured are Rina, Alex, and Alex's girlfriend Kate, at the wedding of Alex's cousin.
(Photo by Don Allaway taken in November, 2012)