Durban High School


Class Of 1963
In Memory
Graeme Robertson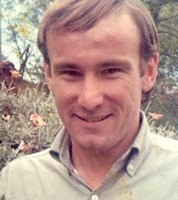 Graeme Robertson was a popular pupil, generally known by his nickname "Bun". He was with the class of 1963 for three years, then took a more leisurely route to matric with the class of 1964. He played rugby for the first XV and was a keen mountaineer. Graeme left SA in the late 1970s and emigrated to the UK. He died of cancer in 1991, leaving a wife, a son, and three daughters.
Graeme's brother Ian Robertson (Class of 1961) writes:
"Graeme was a remarkable person -- thoughtful, wise, generous, benevolent, funny, and very talented. He was very much his own person and lived his life on his own terms. After matriculating he attended Natal University, but he was bored there and left after two years without taking a degree. By that point in the 1960s Graeme identified with cultural trends abroad, particularly in the USA, and became known as one of Durban's first "hippies". He grew his hair down to his shoulders, and kept it that way for the rest of his life. Graeme had one son, Lance, from a brief first marriage, but the boy died in childhood of leukemia. He met Christine and they had three daughters within a singe year -- Lisa, and then the twins Lina and Linka. To support the family Graeme ran a small silk-screening business, producing images for posters and T-shirts. A few years later he had another son, Vidwan, whose mother was a Durban Indian. Vidwan is now a successful international businessman.
"In the late 1970s Graeme, Christine, and the girls emigrated to the Britain. For almost a year he was unable to find work -- he had no qualifications, and his unusual appearance was now augmented by an immense beard. Then one day he wandered by chance into a London hotel where a company was conducting a job interview. Without even knowing what the job was, Graeme joined the other impecccably dressed applicants. The interviewing committee, intrigued at this eccentric interloper, asked a few questions.. and then more... and more... and then gave Graeme the job of Creative Director at one of Britain's leading advertising firms.
"It was a perfect match. With no preconceptions about the field, Graeme was able to unleash his shrewd and creative intellect, asking new questions and conjuring new ideas. Within a short period he became the leading figure in British direct marketing and his work was the subject of a Britsh TV documentary. He was in great demand as a witty and accomplished public speaker, and accepted invitations from as far away as the USA and Australia. He achieved great material success and lived in a fine old English manor house in rural Gloucestershire. He enjoyed driving powerful, fast cars between London and his country home, and liked to relax to sounds from his extensive collection of jazz and rock music.
"Graeme was living life to the full and was at the pinnacle of success when he was diagnosed with bone cancer in 1991. He died four months later, after carefully designing his own funeral. It was an extraordinary event, attended by a great crowd of people from all walks of life. The British adversiting industry set up the Graeme Robertson Trust in his memory, and every year the Trust identifies and rewards students who show outstanding creative talent. The family is thriving and there are six grandsons. Graeme was a truly loveable man of great warmth and humanity."