Durban High School


Class Of 1963
In Memory
Bernard FitzPatrick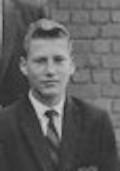 Bernard Gowran FitzPatrick was named after his ancestor the Reverend Bernard Gowran Fitzpatrick, an English cleric who arrived in Durban in 1875 to do missionary work among the natives. The Rererend's progeny spread along the seaboard of the Indian ocean, making their mark in commerce, public service, and the military in Natal, Swaziland, and Mocambique.
Bernard was raised in Mocambique and attended DHS as a boarder in Blackmores. Unfoturnately we know nothing of his life after he left school, but have just discovered that he passed away in Swaziland in 2007. We do not have any information about his own family, except that his sister Petra lives in Australia and his brother Theunis Gowran FitzPatrick (Class of 1961) passed away in Gauteng in 2013.
Please let us know if you have any information about Bernard and his life.