Durban High School


Class Of 1963
In Memory
Howard Buttery
I am sorry to report the death of Howard Buttery, of covid, on January 12, 2020.
I am ill equipped to write an obituary, because although Howard and I have corresponded from time to time about DHS matters over the years we have had little other contact since I left Durban 35 years ago. I did see Howard at the Class of 1963 reunion, and then once since then when he introduced me to the new headmaster, Tony Pinhero. But except superficially I know little about Howard's post DHS activities. So I will plagiarize the bio on the website of one of the businesses that he has an interest in, and is a director of, namely Thebrandhouse:
Howard Buttery was born in Durban, South Africa in 1946. After completing his studies and accounting articles he started his career with Bell Equipment Limited in March 1973 as Group Financial Director and was appointed as the Executive Chairman in 1977 a position he held until the 30 June 2010. He has nearly 40 years of experience in the forestry, mining, construction and sugar industries around the world. His particular interest has been in the development of trade between South Africa and the Sub Sahara African states. He has worked extensively in the West, Central and East African economies and has served on a number of boards throughout this region. He is today the Executive Chairman of I.A. Bell & Company (Pty) Limited which holds the Bell family's investment in Bell Equipment Limited and a number of financial services companies. He is non-Executive Chairman of African Banking Corporation (BancABC) where he has served as a director since 2002. BancABC has an extensive footprint in all aspects of banking in Botswana, Zimbabwe, Zambia, Mozambique and Tanzania. Howard sits on the board of a number of private companies throughout the world and continues to make African inter-regional trade the centre of his interests.
Howard is without doubt one of the success stories of our Class of 1963.
However, I know a little more of Howard's support over the years as a benefactor of DHS, and the DHS Foundation (of which he was a Trustee until recently). Howard was one of the small group of successful DHSOB's who rescued the school from bankruptcy a decade ago, and he remained one of the school's and the Trust's must generous supporters.
Howard will be greatly missed by his wife Rose and children Bruce, Genevieve, Paul, and Guy, and his extended family, to all of whom I send condolences on behalf of our class of 1963. Howard will also be sorely missed as an enthusiastic and generous supporter of DHS and the DHS Foundation.
Stuart "Mossie" Clark
January 12, 2021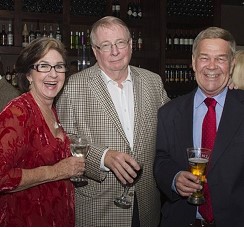 Howard with Sally Anderson and Ian Sumner at the Class of 1963 Anniversary Dinner